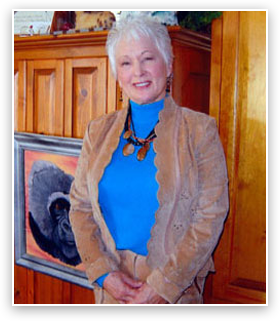 My introduction to rug hooking began in 1982. I had wanted to make a Victorian style rug for my living room. I knew it could be done and I wanted to do it! This was my motivation to learn to rug hook. I signed up for classes and began with a small Oriental rug. I finished with the small rug and felt I was ready to hook a larger one for my living room, but my teacher said "slow down." I had to first learn to crawl, then walk, and then I could take off running. I just wanted to run! I know I drove my teacher crazy. This is something I try to remember when I am teaching! By 1985, I was sponsored for the Pearl McGown Teacher's Workshop.
I then became accredited in 1989, this was the year I was asked to teach two different workshops and have been teaching since. I have traveled throughout the USA and Canada teaching and displaying my work. I continue to study and expand my knowledge in all aspects of the art.
I try new subject matter continuously, working very hard to better my technique and the understanding of rug hooking. I can't stress enough the importance of learning everything you can about rug hooking! Join guilds, read everything you can get your hands on and practice new techniques! The rewards are amazing!
I am currently a member of the Pearl McGown guild, Emerald #5 and ATHA. And I have since completed my second accreditation in 2003 as a McGown instructor. In addition, I mentor students and teachers, and have taught classes over the internet.
Browse through my online gallery of rugs that I have designed and hooked over the years. And see samples from a few of my students.